Mirror & Reflector
total Reflector is used either within a laser cavity as rear mirrors or folding mirrors, or external to the laser as bending mirrors to deliver the beam to the work.
Silicon total reflector is the most common used mirror for laser system, it has good durability, thermal stability and relatively low cost.
Copper mirror is typically used for high-power laser system, it has high thermal conductivity. Molybdenum mirror is normally polished only, without coating, used for tough environments. it has extremely tough surface.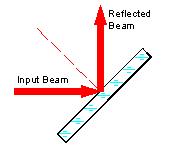 Specifications
Diameter Tolerance +0,-0.13mmReflector
Thickness Tolerance ±0.25mm
Clear Aperture >80%
Flatness λ/2 per 1" Dia
Parallelism < 3 arc minutes
Surface Quality 40/20 scratch and dig
Coating: HR coating, 45AOI
Total Reflector for CO2 Laser - Si mirror,45 AOI
| Part No. | Diameter (mm) | Thickness (mm) | Material | Side 1 Radius | Side 1 Reflectivity (%R) |
| --- | --- | --- | --- | --- | --- |
| RSI-19-3-E | 19.0 | 3.00 | Silicon | Plano | >99 |
| RSI-1-3 | 25.4 | 3.00 | Silicon | Plano | >99 |
| RSI-1.5-9.6 | 38.1 | 9.70 | Silicon | Plano | >99 |
| RSI-2-9.5 | 50.8 | 9.50 | Silicon | Plano | >99 |
Total Reflector for 1064/532/355nm - Fused Silica mirror, 45 AOI
| Part No. | Diameter (mm) | Thickness (mm) | Wavelength(nm) |
| --- | --- | --- | --- |
| RFS-0.75-3.2U | 19.1 | 3.20 | 355 |
| RFS-20-2U | 20.0 | 2.00 | 355 |
| RFS-1-6.35U | 25.4 | 6.35 | 355 |
| RFS-1-3U | 25.4 | 3.00 | 355 |
| RFS-30-5U | 30.0 | 5.00 | 355 |
| RFS-1.5-3U | 38.1 | 3.00 | 355 |
| RFS-1-6.35U | 25.4 | 6.35 | 532 |
| RFS-0.75-5 | 19.1 | 5.00 | 1064 |
| RFS-30-5 | 30.0 | 5.00 | 1064 |
| RFS-50-5 | 50.0 | 5.00 | 1064 |
Total Reflector for 1064/650/532nm – BK7 mirror , 45 AOI
| Part No. | Diameter (mm) | Thickness (mm) | Wavelength(nm) |
| --- | --- | --- | --- |
| RBK-1-9.5G | 25.4 | 9.50 | 532 |
| RBK-30-5-G | 30.0 | 5.00 | 532 |
| RBK-2-9.5G | 50.8 | 9.50 | 532 |
| RBK-19-3Y | 19.0 | 3.00 | 1064 |
| RBK-19-3-1064/532 | 19.0 | 3.00 | 1064/532 |
| RBK-19-3-YGR | 19.0 | 3.00 | 1064/650/532 |
| RBK-0.75-3-YR | 19.1 | 3.00 | 1064/650 |
| RBK-25-3-YGR | 25.0 | 3.00 | 1064/650/532 |
| RBK-25-3-1064/532 | 25.0 | 3.00 | 1064/532 |
| RBK-25-3Y | 25.0 | 3.00 | 1064 |
| RBK-1-6.35Y | 25.4 | 6.30 | 1064 |
| RBK-2-6.35Y | 50.8 | 6.35 | 1064 |
Rear Mirror for Nd: YAG Laser (wavelength 1064nm),0AOI
| Part No. | Diameter (mm) | Thickness (mm) | Curve |
| --- | --- | --- | --- |
| RBK-1-6.3-G | 25.4 | 6.30 | |
| RBK-0.5-9.5-BB | 12.7 | 9.50 | |
| RBK-1-9.5-BB | 25.4 | 9.50 | |
| RFS-0.75-9.5-2MCX | 19.1 | 9.50 | 2M Convex |
| RFS-0.75-9.5-1MCX | 19.1 | 9.50 | 1M Convex |
| RFS-0.75-9.5-1MCC | 19.1 | 9.50 | 1M Concave |
| RFS-20-5 | 20.0 | 5.00 | |
| RBK-1-6.3 | 25.4 | 6.30 | |
| RFS-1-6 | 25.4 | 6.00 | |
| RFS-1-9.5 | 25.4 | 9.50 | Flat |
| RFS-1-9.5-1MCC | 25.4 | 9.50 | 1M Convex |
| RFS-1-9.5-1MCX | 25.4 | 9.50 | 1M Concave |
| RFS-1-9.5-2MCX | 25.4 | 9.50 | 2M Concave |