Ti:Sapphire
NTitanium-doped sapphire (Ti:sapphire) crystals combine supreme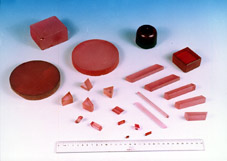 physical and optical properties with broadest lasing range. It's indefinitely long stability and useful lifetime added to the lasing over entire band of 660-1050 nm challenge "dirty" dyes in variety of applications. Medical laser systems, lidars, laser spectroscopy, direct femtosecond pulse generation by Kerr-type mode-locking - there are few of existing and potential applications .

The absorption band of Ti:Sapphire centered at 490 nm makes it suitable for variety of laser pump sources - argon ion, frequency doubled Nd:YAG and YLF, copper vapour lasers. Because of 3.2 µs fluorescence lifetime Ti:Sapphire crystals can be effectively pumped by short pulse flashlamps in powerful laser systems.

Optoaxis supply thye high quality Ti:Sapphire and we can test them ion our laser system before ship out and we can sure the quality.
Basic Properties:
Please view Laser crysals physical Properities.
Optical and Spectral Properties
Please view Laser crysals optical and Spectral Properities.
Ti:Sapphire Specifications:
Orientation:
Optical axis C normal to rod axis
Ti2O3 concentration:
0.06 - 0.5wt %
Figure Of Merit:
>200
End configurations:
Flat/Flat or Brewster/Brewster ends
Flatness:

l

ambda /10 @ 633 nm

Parallelism:
10 arc sec
Surface finishing:
10/5 scratch/dig to MIL-O-13830A
Wavefront distortion:

lambda

/4 per inch
Note: AR Coating is available on requerst.